When we got our first computer, an Amiga 1000, in 1985 it was only a short time before we started to collect little computers. We now have almost 100 computer shaped objects in the form of Christmas ornaments, children's toys, salt and peppers, charms, mugs, and even a Goebel figure. We have so far resisted Jack's urge to collect classic, real computers. He once had to be physically prevented from buying a great PET computer (in working order) at a flea market.
| | |
| --- | --- |
| This is a nutcracker with a computer head wearing great blue Bermuda shorts. | A blown glass Christmas ornament that is computer shaped is shown above. |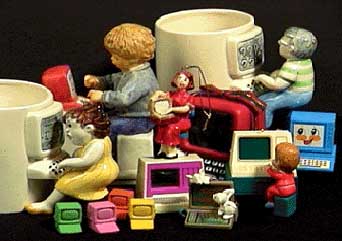 Above is a selection of computers and computer operators includes a Goebel figure, two mugs, a wind-up walking computer, erasers and Christmas ornaments.
Below is a ceramic figure of Minnie, the ultimate computer mouse.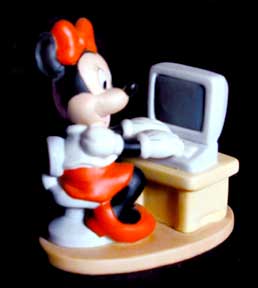 Return to The Collection of Collections page
Collection of Collections Site Map
Contact us at studio@brightbytes.com

**NOTE** All items on the Collection of Collections web site are in our private collection and are NOT for sale. From time to time duplicate items from our collection will be offered for sale in the Do You Remember This? shop on the GoAntiques cyber mall. Visit the Do You Remember This? inventory page for photographica and toaster related collectibles.
Please feel free to write us if you want to chat or share information about areas we collect but we will NOT give appraisals.
© Bright Bytes Studio - Do not use images without permission
Updated on 4/2001