| | |
| --- | --- |
| | On the left is a still life Jack made to illustrate a scene in the Maltese Falcon. He likes to think that the Maltese Falcon figure he has might be the real one under the black paint! |
| | |
| --- | --- |
| | Jack was a fan of Dashiell Hammett's "Detective with no name", the Continental Op, even before he learned that the name of the fictional agency came from the Continental Building in Baltimore pictured in the old postcard on the right. The badge on the left should give pause to someone in the future. (It was a fictional agency, wasn't it?) |
| The silver star on the right is a Pinkerton Detective badge. We believe it is from the period when Dashiell Hammett worked for Pinkerton. | |
We can not afford most first editions so we look for books that are graphically interesting like this 1940s "map-back" of A Man Called Spade by Dashiell Hammett.
| | |
| --- | --- |
| | This building shown in the old postcard on the left at 201 East Baltimore Street in Baltimore, Maryland was the location of the Pinkerton office where Hammett worked as a detective. The 1901 building survived the Baltimore fire of 1904 and still stands at Baltimore and Calvert Street. It has been refurbished and is now called One Calvert Plaza. |
| | |
| --- | --- |
| Humphry Bogart is the prototype of the hard boiled detective. We have a number of images of Bogy in a fedora and often a trench coat like the 18 inch high cut on on the right, movie posters, and cards. It is also telling that the bears, seen on the right in two sizes, 21 and 5 inches, is called Humphry Beargart and wears a fedora and trench coat | |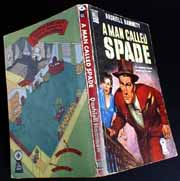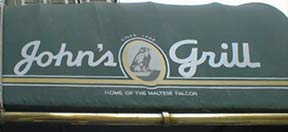 On every trip to San Francisco we try to visit John's Grill which is featured in Dashiell Hammett's Sam Spade stories. The food is good and the walls are filled with memorbilia of Hammett and Spade.
There was a question in our mind as to the best location for the 10 inch high plaster group shown on the right. Should it go with the other Pinkerton items on this page or with the Sherlock Holmes material? It shows a figure that is clearly supposed to be Holmes (although the mustache and rather strange interpretation of a caped coat make it unusual as a Holmes image) and an English Bobby examining a globe with flashlight and magnifying glass. We were told by the dealer who sold it to us that this was a Pinkerton service award.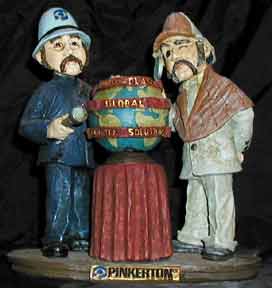 Return to The Collection of Collections page
Collection of Collections Site Map
Contact us at studio@brightbytes.com

**NOTE** All items on the Collection of Collections web site are in our private collection and are NOT for sale. From time to time duplicate items from our collection will be offered for sale in the Do You Remember This? shop on the GoAntiques cyber mall. Visit the Do You Remember This? inventory page for photographica and toaster related collectibles.
Please feel free to write us if you want to chat or share information about areas we collect but we will NOT give appraisals.
© Bright Bytes Studio - Do not use images without permission
Updated on 1/2002