On the right is a selection of our Holmes material in a still life arrangement including one of five deerstalker hats, a calabash pipe, Holmes pillow, nesting dolls, and several figures.

On the right is a Royal Doulton Holmes jug. We have several different jugs as well as Holmes tea pots, Christmas ornaments, figures, dolls, thimbles, etc.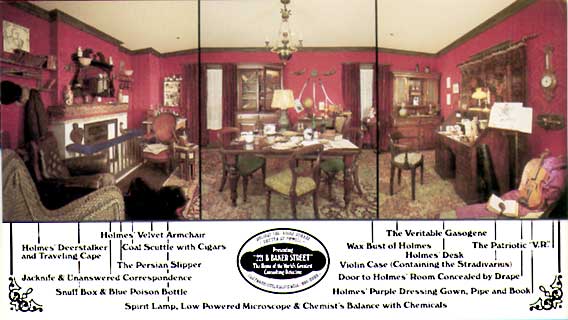 This oversize postcard shows the wonderful Sherlock Holmes room, now gone, that was on the top floor of the Holiday Inn in San Francisco for several years.
We make a point to visit any Sherlock Holmes connected establishment when we travel.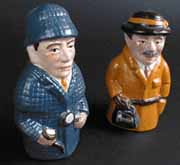 We enjoy collectibles that relate to the Holmes stories such as the Holmes and Watson salt and pepper shakers at the left that we bought at the Baker Street Holmes museum in London.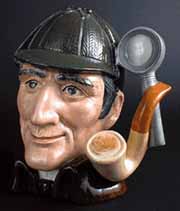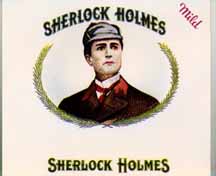 We have several variations of the Sherlock Holmes cigar box label above.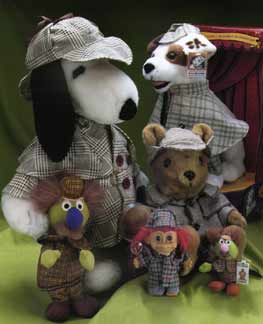 On the left is a selection of toys in Holmes dress; Snoopy, Wishbone, a Troll, and two sizes of Sherlock Hemlock.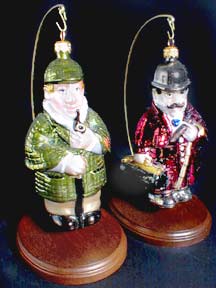 The doll on the below is a Peggy Nisbet Sherlock Holmes that we bought in Bath, England.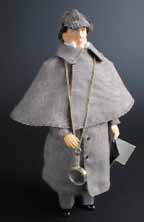 On the left are Holmes and Watson Glass Christmas ornaments.
Return to The Collection of Collections page
Collection of Collections Site Map
Contact us at studio@brightbytes.com

**NOTE** All items on the Collection of Collections web site are in our private collection and are NOT for sale. From time to time duplicate items from our collection will be offered for sale in the Do You Remember This? shop on the GoAntiques cyber mall. Visit the Do You Remember This? inventory page for photographica and toaster related collectibles.
Please feel free to write us if you want to chat or share information about areas we collect but we will NOT give appraisals.
© Bright Bytes Studio - Do not use images without permission
Updated on 4/2001