We bought the Hummel Photographer on the right side of the image on the left many years ago from a local antique dealer who had just returned from Germany. It has the Goebel Bee mark which I understand was used in the 1970s. We thought we had the "only" real Hummel Photographer.
Over the years we found five different figures that were not made by Goebel but were clearly inspired by the Hummel design. Each boy photographer had a bandana tied around his neck, spots on his shirt, and a dog looking up from between the tripod legs.
We did notice that two of these "wannabes" had a lens that was higher than the lens on our "real" Hummel. We did not understand the reason for this until we saw a Hummel at an antique show that was different from ours. The lens was above the center like the knock-offs and there were other differences. We were told that this was an earlier version.
We did not need this variation did we? If you have learned anything about us from these pages you know the answer was, "Yes we must have one of those too!" On the far left in the group below and the left side of the image at the top left is our second "real" Hummel Photographer with a mark that looks most like the Stamped Full Bee used in the early 50s that I found on an Internet site.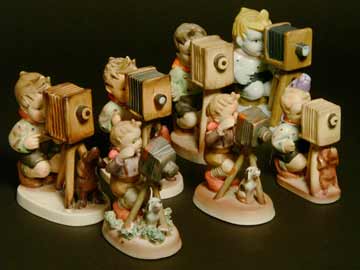 The group of seven figures above show the real (first and second on the back row) and the five different knockoffs There is no question that the resemblance is accidental. The figure on the right end of the front row has the tag pictured below that calls it a "Genuine Hummel Reproduction" that is "Hand Painted" although surely "genuine reproduction" is an oxymoron