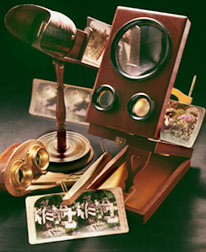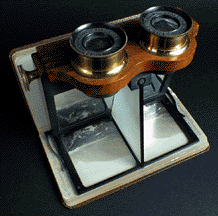 The viewer above is a Smith Beck & Beck stereo book viewer.
Additional viewer styles and images showing them are on our Stereoviewer page. **Added 5/2004**
The camera below is a folding Kodak stereo camera, one of the thirty stereo cameras in our collection.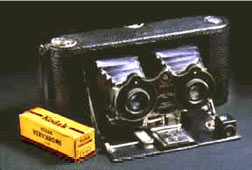 Our first major collection was of stereo photographs and viewers. We now have over 10,000 cards and continue to collect views, viewers, and stereo cameras, and we also make views. We are members of the National Stereoscopic Association which publishes an excellent magazine, Stereo World. We have a large general collection but especially enjoy several subjects shown below.
Some of our most treasured cards show photographers at work or are related to the history of photography. Below from top to bottom:

A 1882 card shows the party of Edward L. Wilson of Philadelphia photographing in Egypt.
G. S. Irish, Photographer at Fort William Henry Hood, Lake George, N.Y. reflected in a garden ball. The back of the card is dated 1881 in pencil.
A 1927 arcade card of two lightly clad ladies in a photographic studio with a large studio camera.
We have several stereo cards relating to the camera obscura (See our web site The Magic Mirror of Life for more of these images.
Stereo related images include this Underwood and Underwood view of a man with a library of boxed stereo views examining a card with a telebinoruler.

Other subjects of special interest are shown below. From top to bottom:

Famous people such as Samuel F. B. Morse, inventor, painter, photographer, and acquaintance of Daguerre in this card by Gurney of New York.
Children with toys like this card by Charles E. Barton, Photographer, Turners Falls, Mass. showing two little girls with seven dolls, toy china sets, baby buggies and child size furniture.
Views of Maryland as in this W. M. Chase Pratt St. Dock, Baltimore, Maryland with an oyster packing company in the foreground with people on the roof. This is the site of the present Harbor Place.
American Indians like this Hillers stereo from the series Indians of the Colorado Valley Ta-Noats copyright 1874.
Return to The Collection of Collections page
Collection of Collections Site Map
Contact us at studio@brightbytes.com
**NOTE** All items on the Collection of Collections web site are in our private collection and are NOT for sale. From time to time duplicate items from our collection will be offered for sale in the Do You Remember This? shop on the GoAntiques cyber mall. Visit the Do You Remember This? inventory page for photographica and toaster related collectibles.
Please feel free to write us if you want to chat or share information about areas we collect but we will NOT give appraisals.
© Bright Bytes Studio - Do not use images without permission
Updated on 5/2004