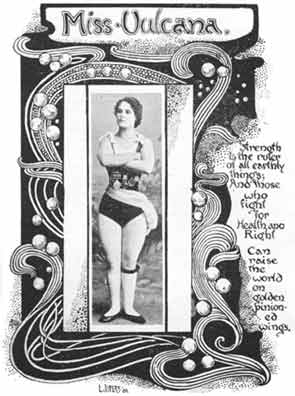 Sandow Magazine in the early 1900s, published articles that were most often about developing the male physique but from time to time featured articles about athletic women and even children and babies. Above is an illustration from an article on the strongwoman called Vulcana. She was reported to be the sister of Atlas, a strongman of the day.
The excuse to show women in what would have been considered skimpy dress might account for some of the interest in the woman athletes.
This undated postcard shows Louise Leers, a lady with a very well developed back.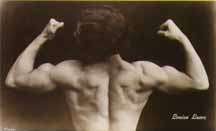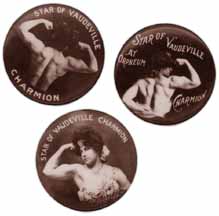 "Star of Vaudeville At Orpheum CHARMION" read the three buttons above. The buttons were made by Hyatt Mfg Co. of Baltimore, Maryland. Since we put them on the web site we have received a e-mail from a descendant of Laverie (nee Cooper) Vallee, AKA Charmion. The Hull Family web site will open in another window.
Exercise and fitness books of the 19th and early 20th centuries were slanted to a male audience but many included at least a token discussion of exercise for the ladies. They often insisted that the aim was not to make them muscular but rather healthier and more "natural" in posture. The illustration below is from an 1866 book The Indian Club Exercise.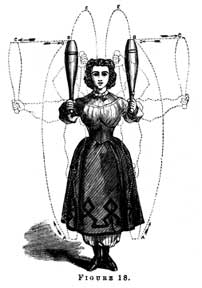 Return to The Collection of Collections page
Collection of Collections Site Map
Contact us at studio@brightbytes.com

**NOTE** All items on the Collection of Collections web site are in our private collection and are NOT for sale. From time to time duplicate items from our collection will be offered for sale in the Do You Remember This? shop on the GoAntiques cyber mall. Visit the Do You Remember This? inventory page for photographica and toaster related collectibles.
Please feel free to write us if you want to chat or share information about areas we collect but we will NOT give appraisals.
© Bright Bytes Studio - Do not use images without permission
Updated on 4/2007