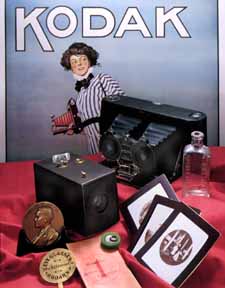 Early items include a pre-Kodak Eastman Roller Slide, a No. 1 Kodak, string set camera, darkroom equipment, and a number of folding and box cameras.
Our huge, 22 inch wide Instamatic X-15 camera that was a store display is seen on the right. We put the light in the flash cube on a flasher that blinks away on the top of a shelf unit. On the left edge of the shelf is a real Instamatic X-15 to give scale to the display. How is that for "large format"?
Another recent addition to our Kodak collection is the Kodak advertising girl below. She stands 13 3./4 inches tall, wears a 1950s version of the blue and white striped "Kodak Girl dress", and advertises French Kodak film. As a background you see a portion of our large Kodak flag.
Click to see a panorama of our Kodak Room.
We recently acquire several metal signs and have added a page with some of our Kodak Advertising Signs.
Like many photographers we learned our craft with Kodak products so that the yellow and red colors of the Kodak logo came to represent photography to us. When we began to collect photographic material and memorabilia we found that we had many items with a Kodak connection.
On the left you see a still life of our Kodak #1 camera with photographs and instruction book, a folding stereo Kodak, Eastman medal, and a stencil from a Kodak dealer.
Pages have been added on:
Replica Original Kodak Camera *New 3/2008
No. 1 Kodak Camera
Original/No. 1 Kodak Photographs
No. 2 Kodak Photographs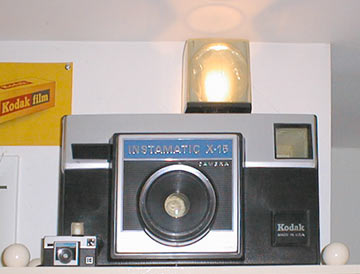 Our sun room is decorated in "Kodak" yellow and red with four Kodak lights, signs, a clock and advertising items. Pictured on the right and below are Kodak cars and trucks, including a child-sized Kodak pedal car that hangs on the wall. This car was Jack's Christmas gift several years ago and started his collection of Kodak #4 racing memorabilia and an interest in stock car racing.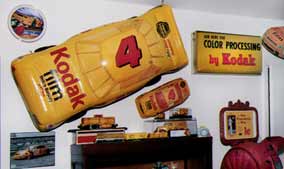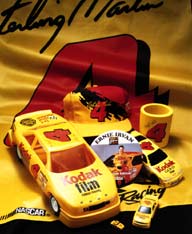 Jack now follows NASCAR racing although life can be tough for a No. 4 fan. He lives in hope that its fortunes will turn around some day.
On a trip down highway 81 through Virginia, Beverly spotted a sign for a Kodak NASCAR museum. What fun that was!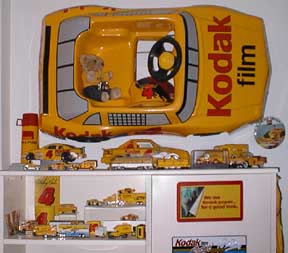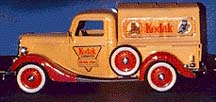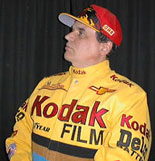 Jack wears one of his Kodak jackets and caps in the picture on the left. He has two jackets and several shirts and caps.
With the introduction of the #77 Kodak Nascar Beverly fears a new round of collecting since the Kodak room is at (or even over) capacity to hold any more objects.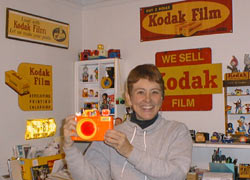 On the left is a picture we took on a visit to a friend we met on the internet, Martha Cooper, AKA Kodak Girl, with some of her wonderful and extensive collection of Kodak material. Visit the KodakGirl web site maintained by Martha at: http://www.kodakgirl.com/
Return to The Collection of Collections page
Collection of Collections Site Map
Contact us at studio@brightbytes.com
**NOTE** All items on the Collection of Collections web site are in our private collection and are NOT for sale. From time to time duplicate items from our collection will be offered for sale in the Do You Remember This? shop on the GoAntiques cyber mall. Visit the Do You Remember This? inventory page for photographica and toaster related collectibles.
Please feel free to write us if you want to chat or share information about areas we collect but we will NOT give appraisals.
© Bright Bytes Studio - Do not use images without permission
Updated on 11/2004