As part of our fascination with the history and development of the camera obscura we have collected a wide range of material. We have books that range in time from the 18th century to today that include information on the camera obscura. Several publications in our collection deal with the building of both box and room instruments. Postcards, cartoons, trade cards, photographic prints, and even toys, plates, a thimble, and a pair of salt and pepper shakers are illustrated with images of camera obscuras.
This page shows a few examples and additional pages of images are listed on the home page and the bottom of each page. These pages include lost camera obscuras in the US and UK and will be expanded to include other areas of the world and additional types of images. We have also included vintage images of some of the camera obscuras we have visited in the US and the British Isles with the diary pages of our visit.
18th and 19th century encyclopedias on technical subjects always contained pages of optical devices. Many of these books have been broken and the pages scattered. We never break up books but since these books have already been broken we buy as many of the illustrations as possible. On the right is an example from an 1817 encyclopedia.
Some items are not directly about the camera obscura such as the Dutch literary classic Camera Obscura by Hildebrand shown below. This is a 1904 edition of the 1839 book. The connection seems to be an analogy of the camera obscura to the nostalgic "views" of everyday life. We love the graphic on the cover, a wonderful gold stamped box camera obscura sitting on a table.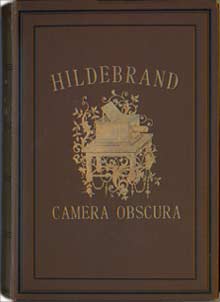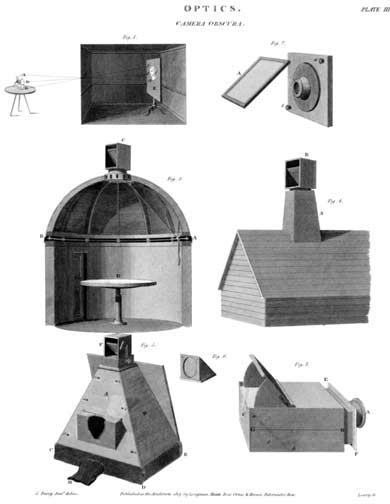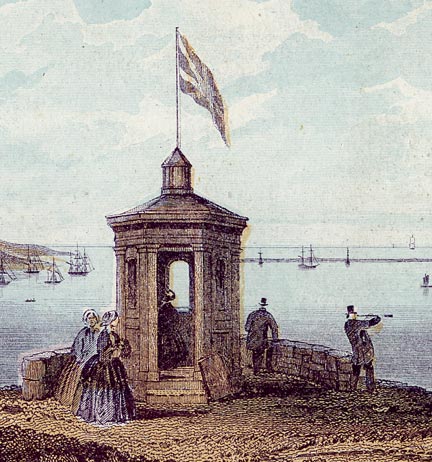 The folded panarama print above shows Plymouth Sound, England in the 19th century. The small building with a flag flying from the turret is identified in the key as "Camera Obscura" although in the enlarged detail on the left it appears that there is an open window facing the water. Either the blue color was applied to this area in error or there were shutters to close out the light when the camera obscura was operating.