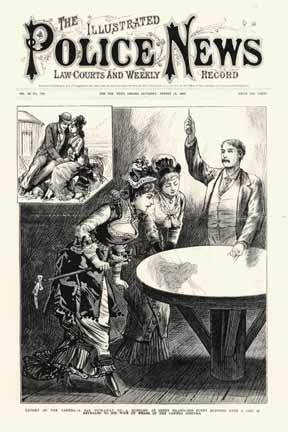 The trade card on the right advertises Janton's Georama and Camera Obscura West Brighton, Coney Island while the back quotes praise of the attraction in newspapers of the day. Since the camera obscura from the Illustrated Police News seems to stand alone on the beach with nothing to suggest a "Georama" this appears to be a different instrument from the same period. The card carries a hard to read copyright date from the 1880s. If anyone can give us a source of information on the Georama we would be grateful.
References to a number of different camera obscuras at Coney Island, New York appear in accounts of the late 19th and early 20th centuries.
On the left is an 1880 tabloid newspaper The Illustrated Police News. It appears to be the 19th century equivalent of the papers like the National Inquirer of today. Filled with sensational stories of murder, kidnapping, celebrities in trouble, child abuse and cows falling from the sky, it would not be much out of place at a supermarket checkout. The cover illustrates a story of an unlucky husband who takes a young lady (not his wife) to Coney Island only to have his wife and her friend visit the camera obscura which overlooks the spot where they are sitting.
This is especially interesting to us since it is an example of the metaphor of the camera obscura as voyeur we have noted before.