* Added 8/2007
Ever since our 1998 visit to John Serkin in Greenport we have looked forward to the opening of a permanent camera obscura there. We learned, more than a year ago, that it was operating and were eager to make the trip. The search for a happy conjunction of a break in our schedule and a good weather forecast finally happened and we drove to Long Island on Thursday and on to Greenport on Friday, August 3rd. A flyer available at the camera obscura lists the hours of operation as "daily when the sun shines in July & August and weekends the rest of the year as weather permits. VIEWING IS BEST WHEN DAYLIGHT IS STRONGEST".
We were surprised to find that there was no prominent signage to identify the camera obscura but we did recognize it in the waterfront park from pictures on the internet. Even though the only identification was a mounted poster on the ground by the door there was a steady stream of visitors to see the presentation.
The lens assemble projects a bright clear picture of the park and waterfront and the movements of the turret and table are smoothly controlled by a box equipped with a joy stick. We found it to be an excellent and well designed instrument.
We were lucky to make contact with Paula Mauro, a freelance radio producer and member of the camera obscura committee. She was very helpful during our visit and assures us that she will keep us informed about progress in promoting the camera obscura.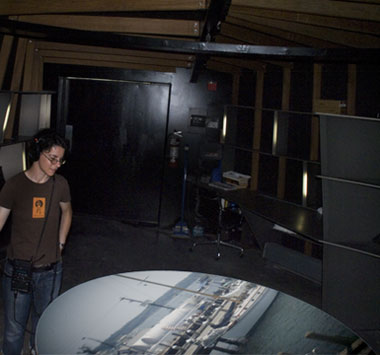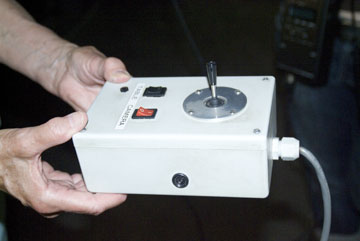 Mitchell Park also has a vintage carrousel in a round glass building. This along with the camera obscura and the marina filled with sailing craft make Greenport a wonderful warm weather destination.