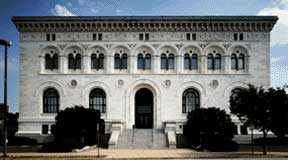 The 2002 exhibition Situated Realities at the Maryland Institute College of Art featured artists using contemporary technology in the making of art. The exhibition included a section on the historic background of the technologies used. We were consultants on the historic text panels and our tent camera obscura was set up in the lobby of the 1907 Institute Main Building. During the five weeks it was on display we gave a number of demonstrations to enthusiastic groups of art students, faculty, and visitors. We were on hand for two exhibition receptions, an open house for parents and students, and two family days. Jack also delivered a slide lecture, Historical Roots of Digital Art Media to a standing room audience in a lecture hall near the tent. After the lecture we demonstrated the camera to a large number of people in groups of about six.
A building interior is not the ideal place to show a camera obscura, since strong natural light projects the best image. We did however find this large space with its interesting architectural details, casts of classic sculpture, and Tiffany glass skylight made a dramatic image on the table. Even on bright days and certainly at night we found that a number of photographic quartz lights added interesting light and shadow to the view.
The installation and showing of the tent was hard work but we felt it was worthwhile because it introduced a large number of people to the magic of the camera obscura.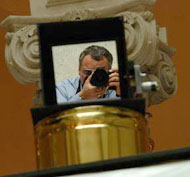 In the picture above Jack is seen reflected in the mirror of the turret as he photographs the tent.
The three views below are digital photographs of the image on the table. The first is of the Diana stature that the tent faced, the second shows the view panned up to the second floor and the third is a view looking up at the skylight.
*Animation* (JavaScript required)
This link will show a brief animation of the installation of the camera obscura in the Maryland Institute lobby by Jack and John Morris, assistant manager of MI Photo. Thanks John!
On June 30, 2002 the Magic Mirror of Life was set up outside the Maryland Institute for a presentation to a reporter from Baltimore Magazine. Mike Lee, a friend and former student, happened by with his camera and has posted some pictures on his curiousLee web log. The Baltimore Magazine article, I am a camera (obscura) is available in the magazine archives.