We traveled to New York City by train on August 18, 2000 to visit the spectacular private camera obscura built by Charles Schwartz on the top floor of a 17 floor apartment building overlooking the Central Park Reservoir. We had been in contact with him for some time and had read an article published in the New York Times on May 7, 2000 about this camera obscura. Charles extended an invitation to us to visit and we arrived on a gray and rainy day. We spent several very enjoyable hours in the camera obscura and came away impressed with the planning and dedication needed to bring this major project to a successful conclusion.
The camera is housed in a specially designed room that is also an office and workroom. It is covered with copper for lightness and when the camera obscura is in use blackout shutters cover the windows. The optics are housed in a copper turret on the roof and project through a hole in the ceiling onto a 42 inch round white table. At the side of the table is a bank of buttons that control the shutters, the tilt of the mirror and rotation of the turret. We learned that it is equipped with an 8-inch lens with a 12 1/2 foot focal length and a 12-inch mirror and brings in a 15-degree slice of the world outside. Sharp focus if possible from infinity to 400 feet. The optics were designed and built by George Keene of California. Jack was familiar with George Keene's work from an article in Sky and Telescope.
Even though the day was gray and rainy the image was bright and sharp and the views over the city and Central Park were spectacular. We were enchanted and hope to return for a visit on a sunny day when the quality of the image must be breathtaking.
Charles is using the camera obscura to make photographs both by exposing material on the table and by photographing the projected image. He showed us a selection of these images and loaned several for our camera obscura exhibition at Loyola College in Baltimore in October, 2000.
For more information on Charles Schwartz camera obscura and to see examples of his photographs visit his web site.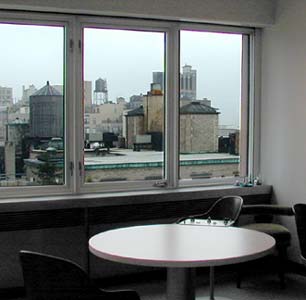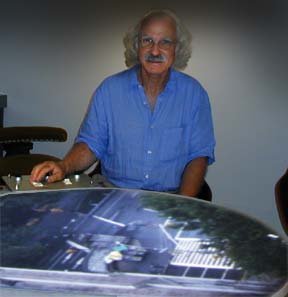 Above Upper: The interior of Charles Schwartz camera obscura with the blinds open.
Above Lower: A multiple exposure of Charles at the controls with a view of the view down to 5th Avenue on the table.