We have visited the Giant Camera behind Cliff House in San Francisco four times. It overlooks Seal Rock on Point Lobos. The small building is decorated to look like a giant 35mm camera with its lens pointing to the sky. It was built in 1948-49 as part of the Playland at the Beach amusement area. The designer was Floyd Jennings who also designed two other camera obscuras, now lost, at The Garden of the Gods and Lookout Mountain.
After Playland closed in 1972 the camera obscura was in danger of being destroyed but was saved by a public campaign. At the time there were a number of articles in History of Photography publications with quotes and letters from both the "Save this bit of history" and "What kind of fool would go into a dark room to look at the projection of something they can see for real outside?" attitudes. The last statement is one we still hear today when we talk about the camera obscura.
When Cliff House was renovated in 1999 the Giant Camera was again scheduled to close. There was again an outcry of support and for a second time it was proposed for status as an historic place. On May 23, 2001 the Giant Camera was added to the National Register of Historic Places and saved from destruction.
We arrived at Cliff House before the camera obscura was open so had wonderful lunch in the Bistro restaurant. We were delighted to be given a table overlooking the camera obscura. The picture above was taken through the window. It shows the turret with the door covering the lens open.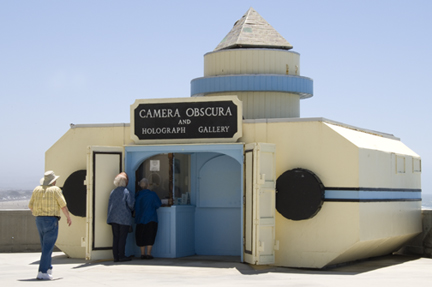 In the image below Beverly and our friends, Louise and Dale, look at the image on the table. This is a composite made with a flash to show the detail of the table combined with a non-flash exposure to show the projected view. The original table is dished, as was common in 19th and early 20th century camera obscuras. This gives a more even focus across the entire surface.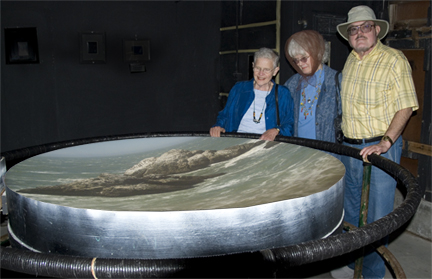 The lens pans across a very wonderful expanse of beach and rocky coastline, including a large rock called "seal rock". At certain times of the year it was once covered with a colony of seals. We were told that the seals have not returned since the last major earthquake. The day we visited it was covered with brown pelicans.
We were delighted to find the image on the table sharp and bright. The mirror has been restored and the rotation of the lens now makes four historical stops during a six minute, 360° rotation as did the original design.