Images of photographer with their cameras are a very special part of our collection. They include real photographs, cartoons, valentines, post cards, book illustrations, and trade cards. We find them endlessly interesting because they show not only the equipment and techniques from all periods of the development of the medium but also give valuable insights into societal attitudes toward photography and photographers.
This page shows a few of images from the several hundred we have collected as well as links to additional examples found on the pages for real photographs, valentiens, sheet music, tradecards, and an animated tableaux. Also check our pages of postcards and stereoscopic photography for images of photographers.
Below is a19th century diecut, chromolithograph of a family being photographed by a large field camera. We bought it on a trip to England. A page of diecuts is under construction.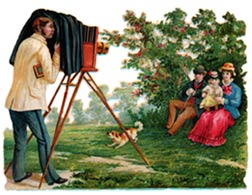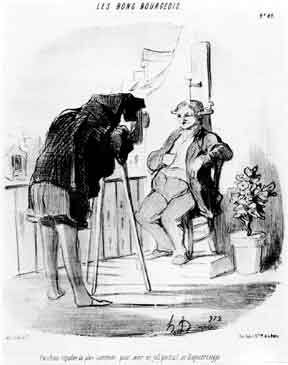 Above is a newspaper cartoon by Honoré Victorin Daumier from 1844. Cartoons from the early years of photography are very instructive about the development of the medium.
Below: Santa Claus with a camera from a cloth children's book, McLoughlin Bro., New York, 1908