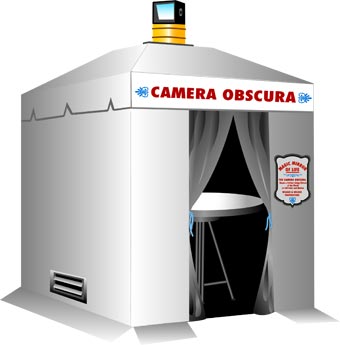 The Magic Mirror of Life is available for installations at schools, festivals, and events within driving distance of Baltimore, Maryland. Write to studio@brightbytes.com with inquires. It can be set up in any weather except rain and high wind. In bad weather it can be installed indoors if a space is available with high ceilings and either a brightly lit, interesting interior or large windows. See the Maryland Institute and McDonogh school links in the next column for examples.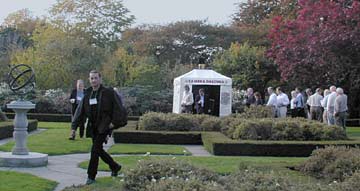 Above the PhotoHistory XI attendees line up to visit the tent in the Eastman House garden.
The Magic Mirror of Life, a custom-designed tent camera obscura, was completed in September 2000. Built to our design with modern materials, it is based on classic 19th century models.
The frame of the tent is a commercial tent with a specially modified top. The parts snap together with only one tool needed, a wrench to tighten the corner brackets. The material for the walls is white on the outside and black on the inside and hangs with clips from the frame.
The tent is 7X7 feet. It was constructed by Anchor Industries, Inc of Evansville, Indiana to our special design. The tent and mechanism pack into a Thule roof carrier and back of a station wagon and can be set up by the two of us in a about two hours.
In October 2000 the Magic Mirror of Life had its debut at PhotoHistory XI in Rochester, New York. The weather was perfect and a large number of symposium attendees enjoyed views of Eastman House and the gardens.
The tent has been installed at the Maryland Institute College of Art in Baltimore, Maryland; McDonogh School in Maryland, for a meeting of the Chesapeake Antiquarian Photographic Society and The Magic Lantern Convention in Washington DC, as well as a number of private showings.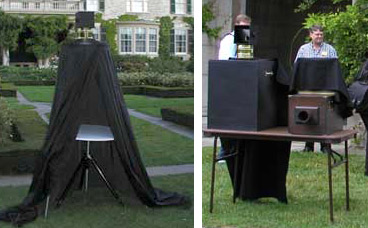 In addition to the large tent we also have a one person tent and several box camera obscuras that can be used for presentations. These are easier to set up when time or chancy weather are a problem and these are our back up when there is a problem in installing the large tent.
The control center is shown below. One transformer rotates the lens 360° and another changes the angle of the mirror. The black box on the left in the photograph is a power supply that provides electricity to the ventilation fan in the center and the transformers that operate the turret.
Jack designed and built the turret mechanism which fits into an opening in the roof. It holds a special-order 5" achromatic doublet lens with a focal length of 75".
The underside of the lens mount sits on a platform in the peak of the roof. Wires connect it to the transformers that rotate the lens and mirror.